Gull-billed Tern
Sterna nilotica aranea
---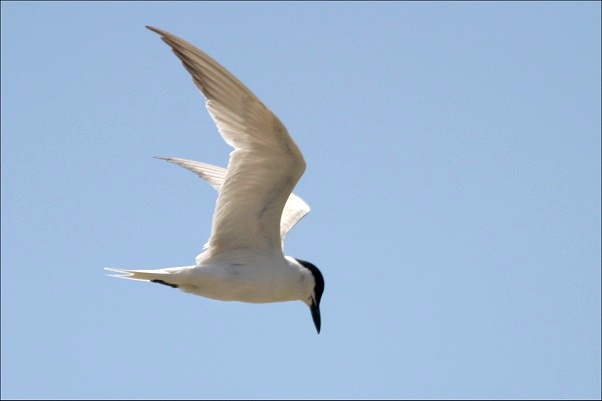 At a glance

Least marine of the terns, typically feeds over land

Few reported nesting sites with only a few scattered pairs

Extirpated from Puerto Rico

Often nests are not in direct association with other seabirds

Because they nest singly or in small groups, breeding pairs may be difficult to detect




Index
Identification:
Another medium sized (35-43 cm (14-17 inches) total length) white tern with a black cap. Bill is all black and shorter and thicker and its body more robust than other similar appearing terns. Legs black. Non-breeding birds lack cap but have black extending from eye toward back of head. Birds feed with characteristic swooping pattern over marsh habitat that is unique among terns in this region.

Adults
First breed at 5 years of age. Life span may be as much as 16 years. Black cap absent on non-breeding birds, top of head white. Post breeding adults and juveniles both have dark eye patch.
Juveniles
Rear of crown and nape have brownish cast. Back tan with brown spots on wings.


Alternative names
French: Sterne Hansel
Spanish: Pico de gaviota, Golondrina playera, Gaviota piquigorda.
Systematics
Some authors consider this species to represent a monotypic genus--

Gelochelidon

. Cosmopolitan tern divided into as many as six subspecies recognized by variations in plumage and size. Two New World subspecies, the eastern North American one (

S. n. aranea

) breeds from Long Island (NY) south along coast to Gulf Coast, also Bahamas and northern Antilles. Pacific coast subspecies is larger.

Likely locations
Open sand flats, secondary sparsely vegetated inter dunes, and marshes in northern West Indies region. Regular on most major Bahaman islands but breeding not often confirmed.

Distribution
Found in both the New and Old World. In West Indies region breeds only in Bahamas and northern Antilles, absent from Bermuda. This is not a species that is normally found in pelagic habitats. Unlike other terns, Gull-billed Terns feed over marshes and open sand flats. A large percentage (ca. 50%) of the total western Atlantic breeding population nests on Texas' Gulf Coast. Winters in south Florida, rarely north to North Carolina, and along Gulf and Central American Coast. Wintering status in West Indies unclear.


Biology
At sea
Not a primary marine species, feeds over flats, salt marshes and freshwater and brackish lagoons. Food items typically insects, small crabs, lizards, and small sea bird chicks. Opportunistic; taking advantage of locally abundant prey items. Feeds on the wing, hawking insects from the air and plucks prey from ground after steep swoop. Migrates at sea but usually over inshore waters.
At the nest
Monogamous, often arriving in pairs at nesting sites. Nest on open flats, inter dunes, open sandy washes. Ground nesting, nest simple sparsely lined with vegetation or marine mollusk shell fragments. Typical clutch three eggs. Eggs light buff, not heavily spotted. Incubation 22-23 days, fledging in 28-35 days. Young may remain with parents for an additional 2-3 months, but unlike other terns this species departs from nesting sites early.
Current Population
Western North Atlantic population (

S. n. aranea

)
SE United States 3,019 pr. (Clapp and Buckley 1984)
Bahamas and West Indies 100-500 pr. (Chardine, et al. 2000)
Central America, (Gulf Coast) a few (Van H and Norton 1984)
Total for Western North Atlantic (

S. n. aranea

): 3,100-3,500 pr.
Others estimate total North American population at 5,400 individuals (Spendelow and Patton 1988) to 6,000-8,000 adults (Kushlan, et al. 2002), but these figures include another subspecies represented by western and Pacific coast populations. Old world population (yet another subspecies) estimated at 24,000 individuals (Moller 1973).


West Indies
| | | | |
| --- | --- | --- | --- |
| Location | Country | Breeding Sites | Breeding Pairs |
| Abaco | Bahamas | 1 | 0 |
| Berry Islands | Bahamas | 2 | 0 |
| New Providence | Bahamas | 1 | 2 |
| Eleuthera | Bahamas | 1 | 0 |
| Cat Island | Bahamas | 5 | 64 |
| Exumas | Bahamas | 3 | 11 |
| San Salvador | Bahamas | 1 | 5 |
| Rum Cay | Bahamas | 3 | 21 |
| Long Island | Bahamas | 4 | 31 |
| Ragged Islands | Bahamas | 2 | 12 |
| Mayaguana | Bahamas | 1 | 0 |
| Great Inagua | Bahamas | 1 | 1 |
| Middle Caicos | Turks and Caicos | 1 | 10 |
| Camaguey | Cuba | 2 | 78 |
| Beata | Dominican Republic | 1 | 0 |
| Southwest Mainland | Puerto Rico | 1 | 0 |
| St. Thomas | USVI | 1 | 1 |
| Anegada | BVI | 1 | 4 |
| Salt Lakes | Anguilla | 1 | 1 |
| Salt Lakes | Antigua | 1 | 0 |
| Margarita | Venezuela | 2 | 2 |
| | Total | 36 | 243 |
Conservation Status
Not an abundant species in North America or the West Indies. It is designated as a species of conservation need at various levels of concern by a number of US states. Considered as Critically Endangered in the West Indies region (Schreiber and Lee 2000). Extirpated from Beata, Puerto Rico, several places in The Bahamas, and probably Anegada. Nests are susceptible to predation by rats at most sites, but they are rarely monitored. Buden (1990) reported predation by rats at a set of nests that he monitored on Rum Cay.
Conservation Needs
A survey of the entire Bahamas would give needed information as to the actual size of that population. Currently it is estimated that the Bahamas has as much as 60% of the total population for the region. Removal of exotic plants and animals from documented nesting cays would improve hatching success and help reestablish open sand flats and secondary dune habitats. Gull-billed terns would be a good species for which to count adults foraging during baseline and future assessments at sites where eradications are conducted.
Appropriate signage at all know nesting sites will help to avert unintentional disturbance of nesting birds. Human disturbance around nests is the major source of nest failure. Disturbance of young causes early dispersal from nests and subsequent loss from exposure to weather and predators. The control of Laughing Gulls at some sites may be appropriate.
Birds once disturbed will shift colony sites, making it difficult to locate the "new" colonies, provide site protection from year to year, and to monitor populations. Birds can move to new sites in the same nesting season or subsequent ones. In most cases these sites are less favorable. Protecting existing sites from disturbance and development is the best conservation option.
Like the Black Noddy, this species is in desperate need of regional protection and possibly management in the area, but because of the scattered nature of their nesting and the fact that many sites probably support only a few pairs, most sites will not be in a position to receive adequate protection. Perhaps efforts should focus on educating and training people who frequent areas around nesting sites (fishermen, recreational boaters, nature tour leaders) to act as voluntary wardens to oversee nesting sites and to monitor breeding activity.

Our knowledge of this species could increase if an index of breeding pairs to the number of flying birds in an area could be developed. Such an index would require a study with counts of the flying birds combined with intense searching for nest sites through often rough terrain.

At present, most estimates are merely reports that the birds frequent an area and nests are almost never found and counted. For example, the population is currently unknown on Great Inagua -- the second largest island in the Bahamas -- but there could be hundreds of pairs given the huge area and many lakes.

Photos
Selected References
Buden, D. 1990. The birds of Rum Cay. Wilson Bulletin 102(3): 457-468.

Clapp, R. B. and P. A. Buckley. 1984. Status and conservation of seabirds in the southeastern United States.

Pages 135-155 in

J. P. Croxall, P. G. Evans and R. W. Schreiber (eds). Status and Conservation of the World's Seabirds. ICBP Tech. Publ., No. 2. 778 p.
Chardine, J., R. D. Morris, J. F. Parnell, and J. Pierce. 2000. Status and conservation priorities for Laughing Gulls, Gull-billed Terns, Royal Terns and Bridled Terns in the West Indies.

Pages 65-73 in

E. A. Schreiber and D. S. Lee (eds.) Status and Conservation of West Indian Seabirds. Society of Caribbean Ornithology, Special Publication Number 1.225 pp.
Kushlan, J. A., et al. 2002. Waterbird Conservation for the Americas: the North American Waterbird Conservation Plan, Version 1. Waterbird Conservation for the Americas, Washington, DC, USA. 78 pp.
E. A. Schreiber and D. S. Lee (eds.) 2000. Status and Conservation of West Indian Seabirds. Society of Caribbean Ornithology, Special Publication Number 1. 225 pp.
Moller, A. P. 1973. The breeding population of Gul-billed Terns (

Gelochelidon nilotica nilotica

Gmel). In 1972 in Europe, Africa and western Asia, with a review of fluctuations during the present century. Dan. Ornithol. Foren. Tidssk. 69; 1-8.
Parnell, J. F., R. M. Erwin, and K. C. Molina. 1995. Gull-billed Tern (

Sterna nilotica

).

In

The Birds of North America, No. 140 (A. Poole and F. Gill, eds.). The Academy of Naural Sciences, Philadelphia and the American Ornithologists' Union, Washington, D.C.
Spendelow, J. A. and S. R. Patton. 1988. National atlas of colonial waterbird colonies in the contiguous United States: 1976-1982. U. S. Fish and Wildlife Serv. Biol. Rep. 88. Washington, D.C.
Van Halewyn, R. and R. Norton. 1984.The status and conservation of seabirds in the Caribbean.

Pages 169-222 in

J. P. Croxall, P. G. Evans and R. W. Schreiber (eds.). Status and Conservation of the World's Seabirds. ICBP Tech. Publ., No. 2. 778 p.
---
West Indian Breeding Seabird Atlas
by Will Mackin and David Lee is licensed under a
Creative Commons Attribution-Noncommercial-No Derivative Works 3.0 United States
License
.
Based on work at
www.wicbirds.net
.
Permissions beyond the scope of this license may be available at
www.wicbirds.net
.

Suggested citation:
Lee, D. S., W. A. Mackin. 2009. Gull-billed Tern. West Indian Breeding Seabird Atlas <http://www.wicbirds.net/gbte.html>. Last Updated: _____. Date accessed: ______.


Last updated:
June 9, 2009